Exam Stress: tips to help yourself through
31/05/2022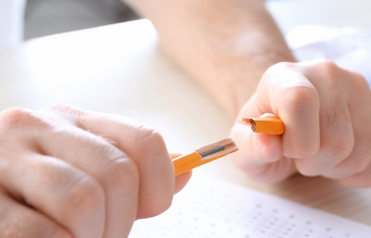 Summer is here at last, but for lots of students, the good weather heralds exam time. And whether you're a super studier or just focused on getting through the exams, it's normal to feel under pressure, stressed or anxious. This in turn can impact on your ability to study or perform during the exam, and can also impact on your homelife, relationships and beyond.

To help you get through your exams, we've compiled some practical tips that may help you manage these unwanted feelings.
Your mental health is important

If you're feeling very stressed or anxious, have a continued low mood, can't sleep or are having panic attacks, give yourself some time to reach-out and tell someone how you are feeling. It can be a friend, teacher, parent or even your GP or a helpline. Often, simply by telling someone, things can feel easier to deal with. It can be a relief just to share your concerns with another person.
Sometimes the anticipation (or dread) can be worse than the exam itself. You've probably experienced that before and once you get underway each exam may appear less daunting. Just as exams will come and go, so too will the feeling of anxiety.
3Ts Hints and Tips

Here's some little pointers to help you through examtime and beyond.
Identify your stressors

As the exams approach, you may feel your stress levels rising. You may feel overwhelmed. Stress management starts with identifying the key source of your stress. By identifying specific things you are most worried about, you can take back that sense of control. You may have a fear of walking into the exam hall, not getting the grades you want or opening the exam paper to find the question you studied hasn't come up.
Once you've identified your own biggest worry, you can try to adjust your thinking to imagine things going your way. Not only does this boost your confidence, it provides you with positive thoughts when fear starts to fester.
Don't compare yourself. Focus on you and what you can do.
This may be easier said than done but trust us, comparing yourself to others just makes everything worse and is a recipe for ruining your confidence. It doesn't matter if your friend got grinds in every subject, spent three hours studying yesterday or if they got 7,000 points in their mock exams. This is no reflection on you nor how you will perform in the exam. So try not focus too much of your attention on what other people are doing. Instead, focus on what you can do with your own time over the next couple of days and leave the past in the past.

Prioritise your time

You can't do everything. There are plenty of blogs out there that will give you an extensive list on how to perform well in an exam. Study in a tidy space, organise your notes, reduce sugar / caffeine intake, turn off your phone, take vitamins etc etc. But while these tips are good, you're only one person. By giving yourself a ton of rules and regulations, you could just be creating more stress and unhappiness for yourself.

Instead, try to be practical. Create a short-term schedule to get you to the end of your exams. Put in some study time that is relevant to the upcoming exam. And don't forget to pencil in some time for you to do some things you enjoy. This could involve eating in your favourite restaurant or cooking, reading, watching Netflix, going for a walk or simply just lying on the couch to catch up on your Instagram newsfeed.
Avoid other stressed people. Stress can be contagious.
This is key! Have you ever felt confident and calm and then all of a sudden you are in a panic after meeting up with a friend who is super anxious and stressed? Stress can be contagious, especially when exams are approaching so to protect yourself from this, it might be a good idea to keep a distance until the exams are over. This doesn't mean you are a bad friend, it just means that you are busy focusing on YOU until the exams are over.
Organise yourself
To avoid that frantic early morning panic when you can't find your calculator, give yourself the benefit of taking 10 minutes to prepare yourself the night before. Get your clothes together, make some lunch and put all your essentials in your bag. Once you're all packed up, you're free to relax before bed knowing that you're all set for tomorrow.

SLEEP!

We have all heard this before but seriously, pulling that all-nighter and drinking six cans of Red Bull is just a waste of time and will leave you feeling burnt out. You may believe that studying late can reduce stress because you feel that you're being proactive. But in fact, lack of sleep can increase the feeling of dread and anxiety, not to mention effect your concentration the next day.

Get to bed at a reasonable hour and try not to spend too much time scrolling before sleep.
Don't forget! Exams don't determine the rest of your life
Take it from us! Of course, doing your best is important but your mental health should not be put at risk during the process. If panic strikes, take a minute to focus on your breathing, then reach out and tell someone close.

And when you're done
Most importantly, when you're finished these exams, make sure to reward yourself by doing something you love. You have just completed a milestone in your life and this is worth self-appraisal. Whatever that means to you and no matter how you feel you did in the exams, you deserve it!
Resources
These above tips can make a huge impact on your day to day life during the stressful exam period. If you would like some more information, we have some resources available. Check out Information & Support pages for practical information, guides and other resources on a range of mental health concerns including Anxiety & Panic, Stress, Self-Harm, Suicide, Depression and other concerns.