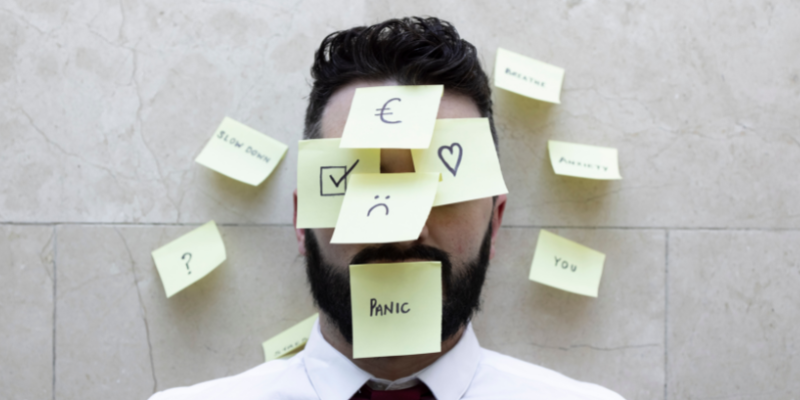 Understanding Anxiety & Panic
Both anxiety and panic are natural emotions that we all experience, often in response to situations we find threatening or worrying.
We can all identify with that uneasy, apprehensive feeling of anxiety in our stomachs. Chances are we feel like this during stressful life events, like moving house, before exams, an operation, or an important event or challenge in our lives. And certain levels of anxiety can even be good when we need to perform well or in an emergency.
Panic is a natural response to danger and is connected to the body's "fight or flight response", but panic attacks can occur in normal everyday situations, when there's no danger involved.
Although panic attacks & anxiety are not the same thing, they do share some physical and emotional symptoms. Learning to recognise the signs in ourselves and in others is the first step to managing anxiety and panic in our lives.
What is Anxiety?
A feeling of worry, nervousness, or unease. It can also be accompanied by Panic.
Comes on gradually and tends to slowly build, whereas a panic attack can happen suddenly.
Anxiety typically has a trigger, something stressful, overwhelming, or threatening or the fear or anticipation of it.
Anxiety can range from mild to severe and can last for hours, days or even months.
It's healthy to feel anxiety when real danger is present, but when it goes beyond actual danger and lingers on in the mind, it can become a more debilitating anxiety or worry. It can be prompted by uncertainty or a feeling of being out of control, a reality we all have to learn to live with.
It can sometimes be hard to understand why we feel anxious and are struggling to cope every day. Anxiety can make even the simplest of things difficult and it's at this point that there's a serious issue. But it can be hard to understand this when we're experiencing the other physical symptoms of anxiety. And so, learning to recognise the signs in ourselves or a loved one is key to managing anxiety.
What is a Panic Attack?
We all recognise panic as a common response to a dangerous or stressful situation, and the feeling usually passes fairly quickly. However, for some of us it lingers and we may also suffer with panic attacks.
Panic attacks come on quickly and involve a very intense reaction. They can feel frightening & overwhelming.
They can also occur when anxiety reaches a peak.
Panic attacks can be unexpected or unexpected. They can arrive out of the blue, when we're not in any danger, such as when watching tv or asleep. Or they can be an expected response to an external trigger such as a phobia.
The body releases adrenaline which can trigger the flight, fight or freeze response that is part of our physical make-up.
We may not actually know what we are panicking about.
If we suffer regularly, we can start to fear the feeling of panicking itself, which in turn causes more panic. It can feel like a vicious circle. But there are steps you can take when you feel a panic attack coming on, so it's important to learn to recognise the signs and work out what helps you.
Know the Signs
Everyone is different but if you are concerned about anxiety or panic, are any of these signs familiar?
Physical Signs
Tense Muscles
Trembling
Churning Stomach
Nausea or diarrhoea
Headache or dizziness
Heart palpitations & shortness of breath
Numbness or "pins & needles" in arms, hands or legs
Sweating
Problems sleeping
Clammy hands or feet
An inability to be still or stay calm
Emotional Signs
Worry
Nervousness
Loss of concentration
Frustration
Racing thoughts
Behavioural Signs
Mood swings
Loss of appetite or over-eating
Communicating less with friends & family
Going out less than usual
Suicidal thoughts
Self-harm or thoughts of self-harm.
Ignoring it won't make it better
Avoiding situations that make us anxious might help in the short term, but the trouble is the anxiety will keep occurring and may be accompanied by panic.
Follow the guides below on how to manage panic for yourself or for another and how to access supports.

If you are in need of urgent assistance:
Call a helpline:

Samaritans 24/7 on Freephone 116123
Pieta 24/7 1800 247 247

Text 50808 for free 24/7 Crisis Text Support
Click here for a list of specialist support services
In the event of an emergency, call 999 or 112
GP: Talk to your GP to find a therapy that suits you.
Access Support Services
We should never be afraid to ask for the help that we deserve.  Keep helpline numbers handy. Consider attending a support group.
Talking through concerns with someone who understands can be very reassuring and can help in learning new coping skills. It's good to know you're not alone and that other people have felt the same as you do but have got through it.
Some key support services for depression are below and a full list of Specialist Support services can be accessed here.