3TS LAUNCH NEW ORIGAMI WELLNESS INITIATIVE WITH NUI MAYNOOTH STUDENT'S UNION
26/04/2023
New Share the Load Initiative Highlights Mental Health Resources on Campus
Monday 24th April 2023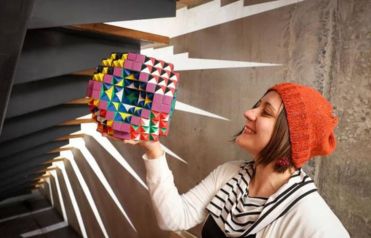 We were delighted to visit NUI Maynooth Student Union again this week to launch our latest Share the Load wellness initiative - an Origami workshop.
Students were treated to an Origami Workshop on-campus by Galway based Origami Master Tom Cuffe.
Speaking about the initiative, MSU VP Welfare & Equality Kealan Hilley, pictured below, said "Everyone loves origami. There's something serene and beautiful about it. Together with 3TS we identified origami as the perfect way to bring some focus and to encourage 'mindfulness' in our University community. The simple but precise act of creating something intricate but beautiful reminds us of the benefits of slowing down and doing something that doesn't involve being either online or the need to be just excessively 'on' all the time really."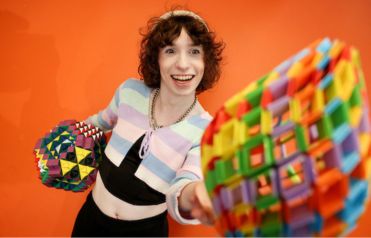 Students were taught to create classic Origami cranes and were fascinated by the intricate shapes & creations which can be generated from commercial mail, cards and general household papers.
Speaking about the initiative, Lise Alford of 3TS said "As well as being a great opportunity for students to learn something new and work together, the mindfulness aspect of today's event is hugely positive and a great addition to our Share the Load 3rd Level initiative which has been running in colleges for 7 years now.
The premise of our work with all of the third level Colleges and Universities is to use these events to highlight the importance of maintaining good mental health, to raise awareness of the excellent mental health resources available to students on each campus, and to let them know that it's okay to reach out to ask for help or to offer help.
We look forward to rolling this new initiative out to colleges and workplaces as part of our commitment to better mental health and suicide prevention in Ireland for all."
A big thanks to our Origami Master, Tom Cuffe, and to the NUI Maynooth SU VP, Kealan, for helping us get this wonderful inititiative off the ground. If you feel this is something you would like to see happen in your workplace or in your college, please get in touch by email to info@3ts.ie.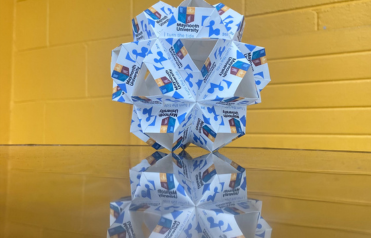 *3TS 'Share the Load' is a public display of 137 backpacks, representing the average number of college students who have died by suicide in Ireland each year over the past 10 years according to CSO statistics (*2019).