3TS Golf Tournament 2023
16/02/2023 - 17/10/2023 : All Day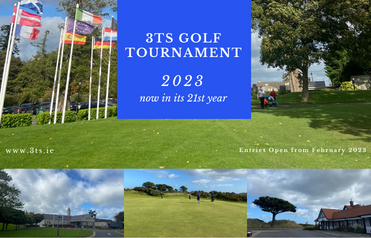 This is the 21st year of the popular 3Ts Annual Golf Tournament. Our 2023 competition is once again an exciting opportunity for golfers to play one of two prestigious golf clubs, the K Club Ryder Cup Course or Portmarnock GC.
All for an entry fee of €10 per person!
Our Annual Golf Tournament is an awareness campaign which aims to highlight the issue of suicide in Ireland at grassroots level. The full entry pack containing rules and entry forms has been circulated to Secretary Manager at participating GI Clubs.
Clubs are invited to field a 4-person team headed by their Men's Captain and their Ladies' Captain to compete against other clubs at one of our world class venues. We ask clubs to hold a 3Ts club competition for men and for ladies, the winners of which then join the two club captains to comprise the 4-person team.
All participants in the Club Competitions must pay an entry fee of €10 per person.
Each team entered automatically qualifies for one of two National Finals at either the K Club Ryder Cup Course or Portmarnock Golf Club.
Closing date is 28th August 2023, so there's time to get your men's & ladies' club competitions into the club calendar now!
For further information and entry forms, download your club's entry pack below.